CULTIVAR
PRICE
HYBRIDIZER
YR
DESCRIPTION
SIZE

S

HABIT
PLOIDY

Kaleidoscope Intrigue

$20.00
Carpenter, J.

'09

The royal purple color of the flowers is magnificently accented by water-mark/eyes that are bordered with very deep purple etchings that extend into lines of purple that traverse downward into the lavender water-mark/ eyes.

27X6

Ev
D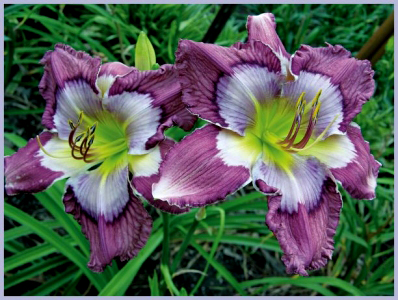 'Super Fancy Face' X 'Texas Kaleidoscope' - M, Re, Fr., 23 buds, 4 way branching.

Awards: HM 2013
Photo Credit: Jack Carpenter