CULTIVAR
PRICE
HYBRIDIZER
YR
DESCRIPTION
SIZE

S

HABIT
PLOIDY

Key to My Heart

$15.00
Carr, R.

'00

A stunning example of our efforts to enhance the "AVANTE GARDE" type pattern. The bright crimson pattern, sharply defined on both petals and sepals, is surrounded by a very wide pale pink border. Petals and sepals both carry a complimentary buff to white picotee. Eye catching and unique.

25X5

Ev
T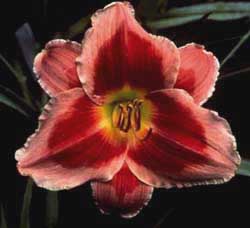 'Avante Garde' X 'Whooperee' - E, Re, Fr., 22 buds,3- 4 way branching.
R.I.P. Dr. Bob, we all miss you! You're name lives on through your beautiful creations!

Awards: HM 2002
Photo Credit: Bob Carr