CULTIVAR
PRICE
HYBRIDIZER
YR
DESCRIPTION
SIZE

S

HABIT
PLOIDY
Wonder of it All
$20.00
Carr, B.

'05

A superb, heavily ruffled icy pale lavender flower. So outstanding on it's maiden bloom, that we selected it then for introduction. The substantial petal edges sport gold bubbles, ruffles and "owl ears" that extend into the green throat.

Bob you were way ahead of your time with this one, my friend. R.I.P.

27X5.75

Dor
T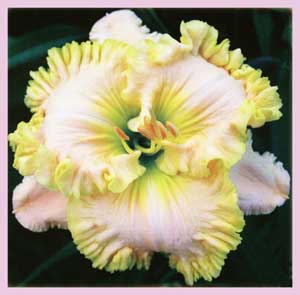 'Mandalay Bay Music' X 'Wonders Never Cease' - E., Re., Fr., 20 - 25 buds, 4 way branching.


Awards: AM 2011, HM 2008
Photo Credit: Bob Carr