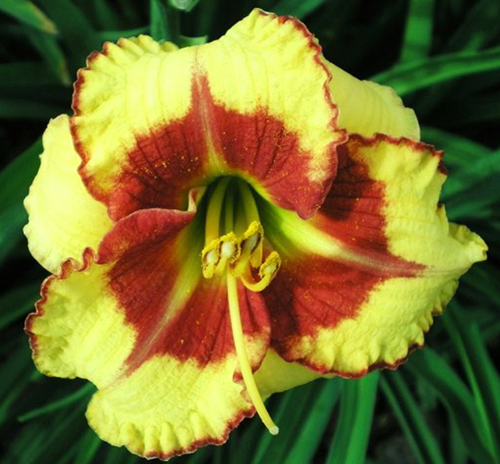 *Broadway Spotlight

---

*

BROADWAY SPOTLIGHT

(Stamile,G.) TET T511A [(Broadway Doll x Broadway Dazzler) X (sdlg. T99-76A x Broadway Doll)] 16" MRe. no fr. SEv. 3.25". 3-way branching. 20 buds.

At only 16" one might ask how this could not bloom down in the leaves. This is where the craft of hybridizing both the plant habit and flower in conjunction works. The flowers bloom perfectly well above the foliage on low slender foliage. Most eyed tets have large coarse foliage which Grace has worked carefully away from to create balance with her tiny flowers.

BROADWAY SPOTLIGHT is a bright ruffled yellow with a red eye and edge and a very green throat. The colors complement each other nicely.

A delightful presence in the garden and fertile both ways.