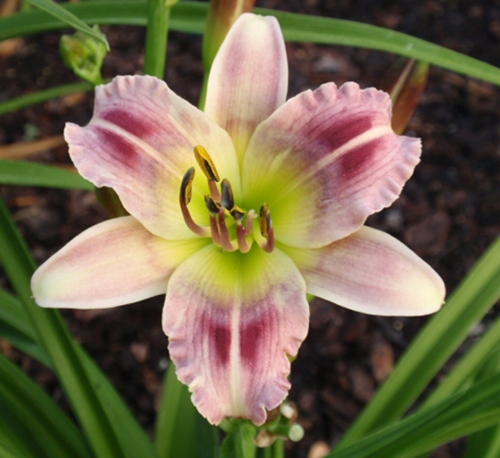 Little Star Bright

---
LITTLE STAR BRIGHT
(Stamile,G.) Diploid D523E (Little Peter Piper X sdlg.) 18" EMRe. no fr. SEv. 2.75". 5-way branching. 36 buds.
LITTLE STAR BRIGHT always draws an "ooh" or "ah" when people see it. No wonder! It is what I call an isolated cut off eye whereby the eye has been relegated to a dollop of color in the center of the petal.
The entire flower is somewhat star shaped and can be described as a mulberry
Cream with a charcoal bulls eye ring and dollops of mulberry dissected by a white midrib to create a very special and unique pattern.
Very awesome and easily fertile both ways.