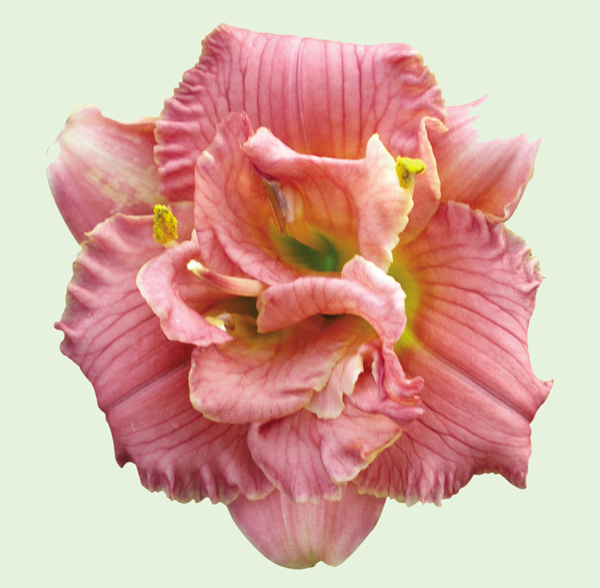 Little Starlet

---

LITTLE STARLET (Stamile,G.) Dip. D201-57 (Little Whipper Snapper x Cute As A Button) 15" ERe. SEv. 2 ¼". 6-way branching. 40 buds. Double 100%. If you have never seen a patch of Grace's popcorn doubles it is really hard to describe the incredible bloom density that these tiny daylilies have. There is nothing else in the world of daylilies that even comes close. The closest thing in horticulture is an azalea or some of the sheared or plant growth regulated chrysanthemums where the intensity of bloom all but blocks out any sign of foliage or plant so all you see are dozens or hundreds of blooms.

Imagine a scape only 15" high with 6 branches and 40 buds all confined to about a 4"-5" diameter. Now cover that scape with two or three 2" peach pink blooms a day and, of course, you would have adjacent scapes in the clump doing the same thing and I think you will get the idea. It is a sea of color, all the same height, literally covering the slender green arching foliage. It is truly an amazing thing to see.

If you do not grow one of Grace's mini doubles I recommend you do so, and if you already do, I recommend you add LITTLE STARLET. Fertile both ways. Very recurrent (3 – 4 sets of scapes in Florida).