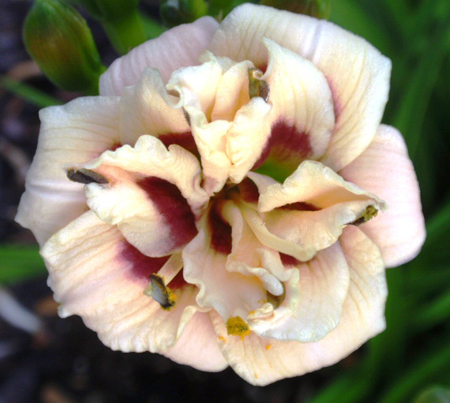 Tiny Tease

---
TINY TEASE
(Stamile, G.) Diploid D626A [Nano Second X (Sdlg D20-60 x Little Miss Manners)] 15" ERe.SEv. 1.75". 4-5 way branching. 28 buds. 100% double.
When Grace calls something "tiny" you know it is small. This delightful full petalloid double is a clear cream with a burgundy eye.
It is amazing how small the daylily flower can be. The genes certainly are there but must have been selected for generations to produce such a perfect little double daylily. With its low arching perfectly proportional foliage TINY TEASE would make a great pot plant. One of the nice things about Grace's miniatures is that they also have a root system in proportion to the flower size, scape and foliage which makes them perfect for the front of the border, a patio or deck pot or simply anywhere high floral intensity with smaller flowers is needed. Lots and lots of reblooming scapes. Fertile both ways.