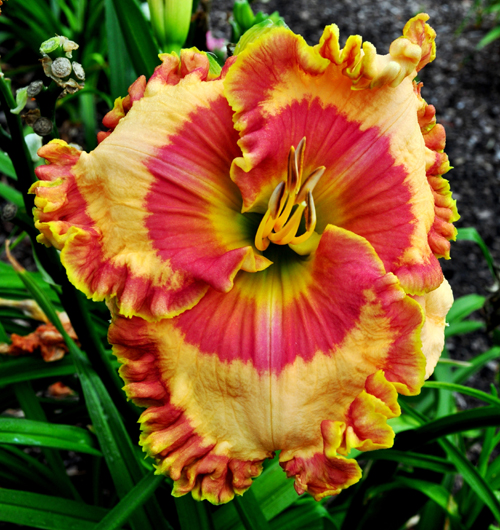 *Rio Fiesta

---
*
RIO
FIESTA
(Pierce, G.)

TET

P806-C

(Orange Grove x (Hedgehog x Fringy))

33" EV E re. fr. 6.25" flower 5-way branching 35 buds.

If you like bright colorful orange daylilies you will love 'RIO FIESTA'!

This big round faced blossom is a picture of clarity with so much going on.

There is a large orange cherry eye above a crisp citron green throat.

Thanks to the influence of 'FRINGY', the petals are picoteed, with a strong orange cherry border edged in golden ruffles.

The flower face is large and opens to perfection in the early season.

A strong and healthy grower, the foliage even after the fourth set of reblooms is thick and vigorous with no signs of being tired in August!

'RIO FIESTA' is a complete package and one that I would strongly recommend with no peers.

Fertile both ways.