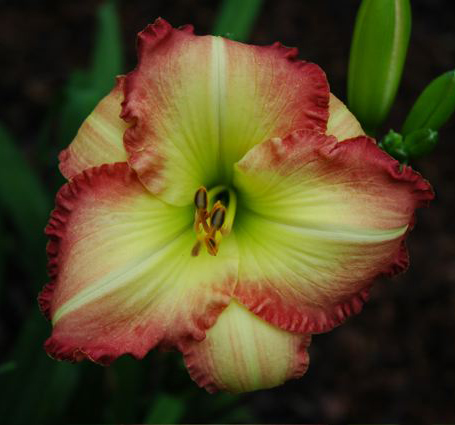 *Ruby Border

---

*RUBY BORDER (Stamile,P.) TET 4260-B [(By Design x Tetra Beautiful Edgings) X (Picotee Dream x Tetra Beautiful Edgings)] 30" MRe. emo. Ev. 5.5" x 3.25" x 2". 4-way branching (2 laterals + terminal "y"). 35 buds.
RUBY BORDER always reminds me of apple blossoms. I do not know why since apple blossoms are pink and white while RUBY BORDER is red and cream green. Perhaps it is the light center and dark edge that triggers it.
RUBY BORDER is the only one of the picotees that seems to show a green cast throughout the flower. It also has the deepest color, widest edge and best substance of all the picotees. Like the others, the picotee is not only on the petals but the sepals, as well. It is a wonderful effect. I like the "candy striping" that occurs in the sepals of RUBY BORDER.
An important parent for picotee edges RUBY BORDER has given some of the deepest colored edging. Fertile both way.