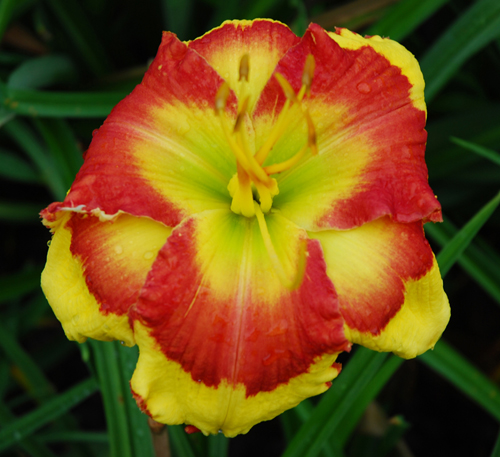 *Sir Francis Drake

---
*
SIR FRANCIS DRAKE
(Stamile,P.) TET 6208 (Morning Colors X Tetra Peppermint Delight) 32" MRe. emo. Ev. 6.75" x 3" x 2.75". 4-way branching (2 laterals plus terminal "y"). 30 buds.
What can I say about TET PEPPERMINT DELIGHT that I have not said already. It has been a monumental parent in getting the eye alone in daylilies to be bigger than eyed daylilies of the past. The red eye on this flower extends from the green throat all the way out to 5 ½". Outside the huge eye is a bright yellow flower base and hidden behind the recurve is a bright red edge.
SIR FRANCIS DRAKE changes the huge eye equation considerably. Imagine the perfect combination of MORNING COLORS and TET PEPPERMINT DELIGHT but on steroids. Once one sees this flower one can never go back to hybridizing with either parent.
A choice but limited flower. Fertile both ways.