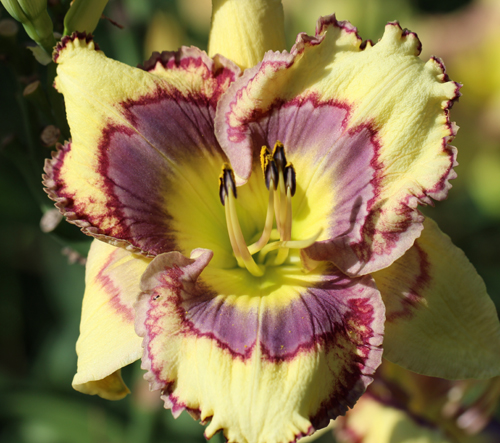 *Spell Catcher

---
*
SPELL CATCHER

(Stamile-Pierce) TET 926-D (Dragonfly Blues x Tet Texas Kaleidoscope sdlg) 33", 6" flower, SEV, emo, EMre, 5 way branching with 40 buds. Arching Foliage.

Before we had Texas Kaleidoscope, Pat acquired a Kaleidoscope seedling from Jack Carpenter and converted it giving us both

SPELL CATCHER

and

BLUE WRANGLER. SPELL CATCHER

is the first of many future (Large) patterned daylilies. The base color is a light cream lemon with the purple eye etched in raspberry red. There is a double edge of raspberry and purple above a green throat. The big flat face and full form has been a great canvas in creating so many large patterned daylilies and I can't wait for the 2013

SPELL CATCHER

seedlings to bloom next season. Pretty. Fertile both ways. Very Limited.