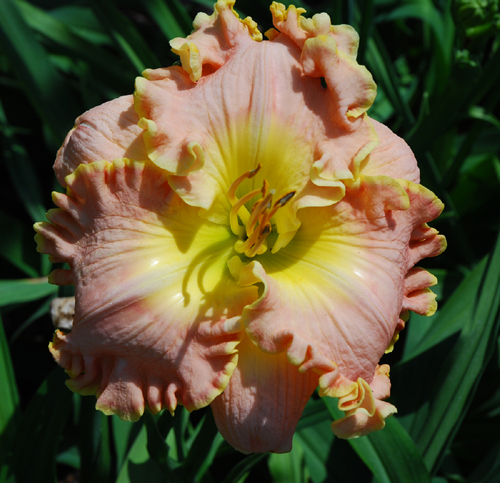 *Stone Island

---
*
STONE
ISLAND
(Stamile,P.) TET 5110-E (America the Beautiful X Judy Farquhar ) 32" EMRe. emo. fr. Ev. 6.75" x 4.5" x 2.75". 4-way branching (2 laterals plus terminal "y"). 35-40 buds.
Visitors to the garden like really big flowers and STONE ISLAND is one of the biggest. Well over 7" if stretched out, the flower sits naturally at just under that. STONE ISLAND gets its size from JUDY FARQUHAR but it's pinker like its pod parent. The gold edging is an enhancement on both parents. STONE ISLAND is simply a terrific combination of size, form and color. For the hybridizer the 4.5" petals and 2.75" sepals are exceptionally important for getting flowers of size with good form. A slight halo appears during cool weather suggesting that STONE ISLAND could be used with the eyes. This is something that needs to be explored.
Excellent breeder for large flowers. Fertile both ways.