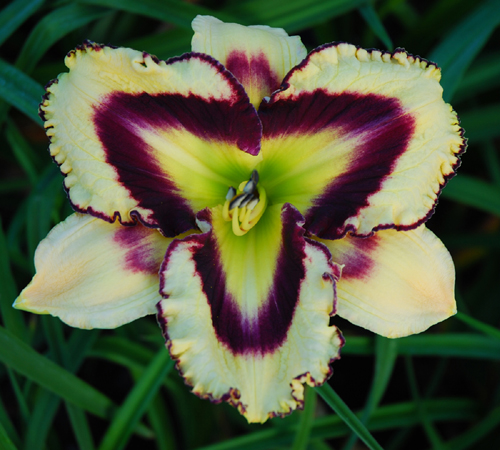 *Sulphurite Prism

---
*
SULPHURITE PRISM
(Stamile,P.) TET 5253-C (Eye of Excellence X Tetra Malachite Prism) 25" EMRe. no fr.

emo. Dor. 6" x 2.75" x 2". 3-way branching. 15 buds.
I consider SULFURITE PRISM a hybridizer's bridge flower for a number of reasons. First and foremost it is the first introduction from Tetra MALACHITE PRISM and several people have asked me to introduce one of the Tetra Malachite Prism flowers. Tetra Malachite Prism is a very difficult parent to work with. Flowers begin to open early and pollen is often ruined unless protected and the pollen is especially weak and the plant itself does not set seed pods for me. SULPHURITE PRISM, the first of our prismatic series overcomes both obstacles by being easy to use both ways.
What is especially neat about the Tetra Malachite Prism seedlings is that the pattern on the sepals is often a more dramatic expression than the pattern on the petals. Those doing spiders, ufs and long petals can easily see the advantage of a delightful pattern there.
Seedlings from SULPHURITE PRISM have been outstanding. The green throat and prismatic eye are carried out almost to the end of the flower while the picottee edge has been enhanced to a full border. Moreover, we are beginning to see breaks and shattering of the solid eye. While the seedlings from SULPHURITE PRISM have been some of the most dramatic and unique in daylilies, I would caution you to use it with well branched things to get bud count and branching back.
Unique and easily fertile both ways.