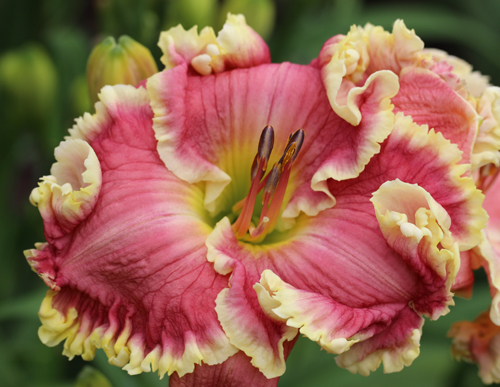 *The Big Picture

---
*
THE BIG PICTURE
(Pierce, G)

TET 9988-A

(unknown x unknown)

29", 7.25" flower, EV, emo, Ere,

6 way branching with 35 buds .Low arching foliage.
THE BIG PICTURE
has a very large bloom of clear rose pink, 100% diamond dusted with probably the most ruffled edge of any pink daylily at Floyd Cove.

With so many pink daylilies on the market what makes THE BIG PICTURE stand out - besides her large size and big ruffled gold edge - are the wild angel wings that do not hand up.

This is a startler of a flower and come again next season I will again be making as many seed as I can, and… get to see the kids from Jurassic Pink.

With no tan in the lovely rose pink color you just may call this your favorite pink daylily.

Fertile both ways.