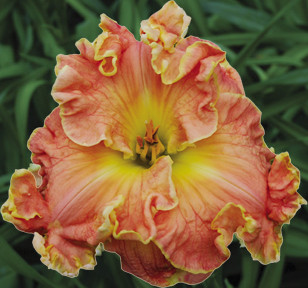 *The Hulk

---

*THE HULK (Stamile, P.) TET 4132 (The Terminator x Zephyr's Song) 29" MRe. Emo. Ev. 7 ¼" x 4" x 2 ¾". 3-way branching. 18-20 buds. This is simply our heaviest, most ornately ruffled pink to date. First flowers on this monster are close to 8". Looking at it you would think it had to come from JUDY FARQUHAR but no, it's THE TERMINATOR with ZEPHYR'S SONG that gives its massive size and substance with incredibly wide and chubby petals and sepals.

This was easily one of the visitor's favorites this season. To see a row of these huge blooms is to witness something quite extraordinary.
The color is a salmon pink. The flamboyantly arranged ruffles are laced in gold. If you like big flowers THE HULK is your flower. Fertile both ways.