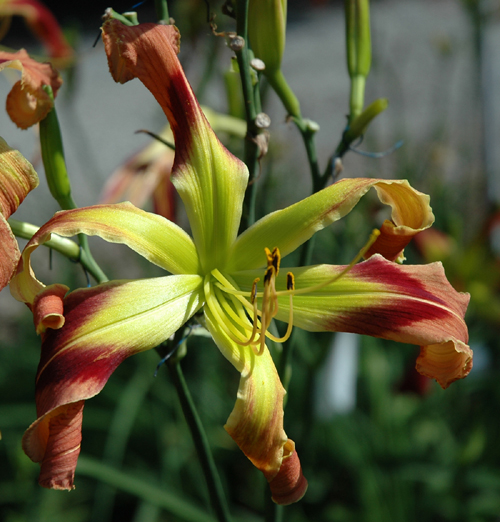 *Twist and Spin

---

*

TWIST and SPIN

(Stamile,P.) TET 641-A (Wild and Wonderful X Wild and Free)

50" EMRe. emo. fr. Ev. 7" x 1.73" x 1". 6-way branching (3 laterals plus terminal "W") 40 buds. Unusual form. Crispate.

I have loved twisting and spinning daylilies ever since I saw the first of Snooks Harville's spiders. I was determined that I would have that same movement in the tet spiders. TWIST and SPIN is an outstanding example of what can be done to give motion to the tet spiders.

The flower, itself, is a medium red with a deep ruby red eye and huge citron green throat. The flowers open right from the throat to present a very flat face with a little to no trumpeting.

A delightful flower. Fertile both ways.