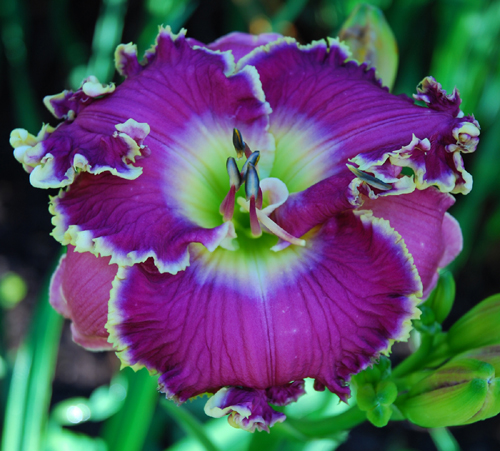 *Violet Etching

---

*

VIOLET ETCHING

(Stamile,P.) TET 563 (Cerise Masterpiece X Roses and Gold) 36" MRe. emo. fr. Ev. 6.5" x 3.5" x 2.5". 6-way branching (3 laterals plus terminal "w"). 45 buds.

VIOLET ETCHING is a pretty amazing flower in so many ways. It comes from two rose flowers, each of which has lavenders and purples in their backgrounds. The pod parent has the lavender MUSICAL MEDLEY and the purple SEIZE THE NIGHT while the pollen parent has the lavender LAKE EFFECT in its background. It points to the recessive nature of the modifiers that give us lavender. VIOLET ETCHING is a huge mauve lavender with a slight blue lavender eye and double edges of blue lavender and chartreuse. The image may show white or pale yellow but the edge in the garden is more chartreuse and usually has numerous chartreuse teeth, as well. I know it sounds kind of gross but green teeth in daylilies, unlike green teeth in people, can be very attractive.

The flowers have excellent substance and are presented on tall well branched scapes. Traditionally, I have taken this flower to lavenders and purples. This year I have taken it to the patterns. I think lavenders are an important key to intricate patterns. This is easily seen in Grace's miniature program.

Neat flower and fertile both ways.