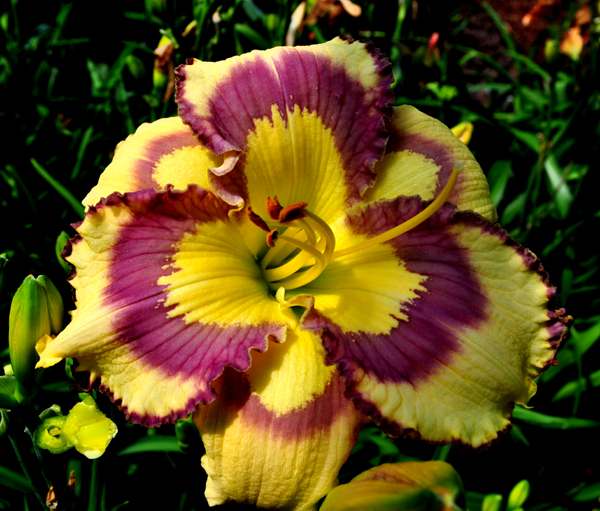 *Violet Stained Glass

---
*VIOLET STAINED GLASS
(Stamile, P. - Pierce) TET 8141 A (Spacecoast Seashells x 7235) x Racing The Moon 36" EM Re, Fr Ev 6.25" 5 way branching, 30 35 buds.
I decided to chose only one appliqué this year (the best one), and so this is our last appliqué out of the rows of keepers from this and similar crosses.

P.S. I am not a fan of so, so, fillers to make up bigger collections!

Why I choose VIOLET STAINED GLASS? It is the most unique, and hands down the most impressive. What you see is what you get in this large flower. With light cream petals and a large light violet washed eye that is not round, but feathered out across the flower face. Never a bad hair day and often blooms showed the appliqué with a much stronger jagged edge. The large lemon appliqué throat is so beautifully pulled out over the flower face extending from the green heart. The lemon appliqué extends half way up the sepals too. The entire flower is covered in diamond dusting, and the light violet eye matches the violet picotee edge. Easily pod fertile like Racing The Moon, I made more seed this year using Tet Cosmic Kaleidoscope than I could ever plant. A beauty!! Fertile both ways.