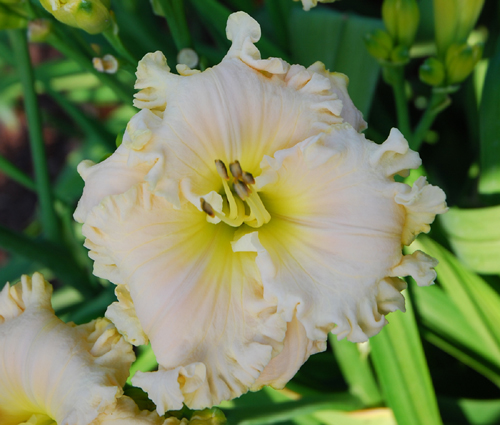 *Voila Francois

---

*

VOILA FRANCOIS

(Stamile,P.) TET 516-A (sib to Alpine Ruffles X Alpine Ruffles) 30" EMRe. emo. Ev. 6" x 3" x 2". 6-way branching (3 laterals plus terminal "w"). 55 buds.

What an incredible daylily VOILA FRANCOIS is. This round heavily ruffled antique white, like its sib LACY ALL OVER, rarely if ever hangs up. Blooms open early and perfectly flat despite heavy substance and deep fluted ruffling and occasional angel wings.

Another nice thing about this daylily is the terminal "w" which holds the very large flowers at a nice angle from the vertical making for a perfect display either at the show table or in a border display.

The incredible 55 bud count puts this in a class of some of our best branched and budded full forms. You just do not see this kind of branching and bud count in such a beautifully formed flower with such size and excellent plant habit.

Some visitors to the garden have called this flower the best flower seen in Florida in 2008 and one has preordered 5 plants of it. I will let you decide if you agree. Certainly it is very special and named for our dear friend Francois Verhaert. Fertile both ways.