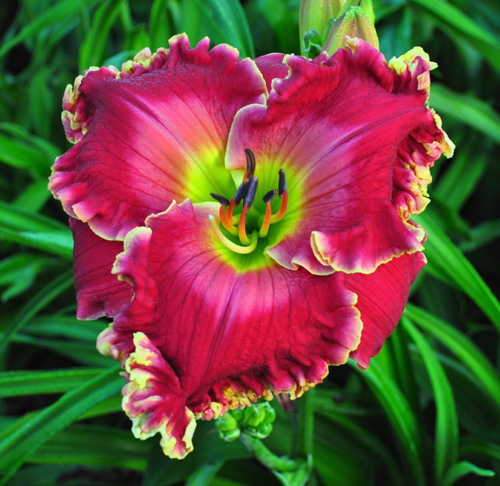 *Watermelon Red

---
*

WATERMELON RED

(Stamile-Pierce)

TET 8178-C

((Madly Red x Complementary Colors) x Big Red Wagon)

32", 7.25" flower, EV, emo, Mre, 4 way branching with 28 buds.

Low arching foliage.

This large watermelon red is nicely ruffled with a large pink watermark and gold edge above a large grass green throat. Similar to Watermelon Martini this lovely red overlaid with watermelon diamond dusting is always impressive with its big flat face and large presence. Easily fertile I await her many seedlings this coming spring from Tetra Rose F. Kennedy. Big and showy, I have a lower price on WATERMELLON RED as she is such a fast multiplier. Fertile both ways.