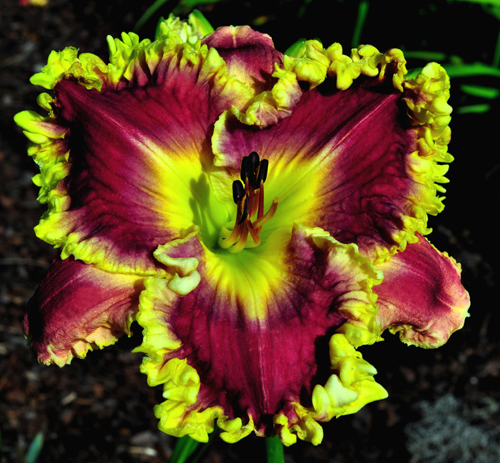 *When Royals Dream

---
*
WHEN ROYALS DREAM
(Stamile, P. – Pierce, G.)

TET 760-L

(Violet Becomes You x Big Red Wagon)

37"

EV EM 6.25" flower 5-way branching 35 buds.

This is hands down my favorite from several intros. of this cross, and it could possibly be my favorite large purple daylily at Floyd Cove, that alone says a lot. The photo does not do this flower justice, you have to be there to reach out and pinch the luminescent bubbly chartreuse edging!

The petal color is a royal purple with just enough red pigment to make the color pop.

The scapes of 'WHEN ROYALS DREAM' are tall and display the large wide open blooms to perfection, with never a bad hair day!

On rebloom the green-gold edge is twice as large and is truly an amazing sight.

If there was one new daylily to get, weather to knock your socks off or breeding for BIG edges, 'WHEN ROYALS DREAM' should not be missed.

Fertile both ways.