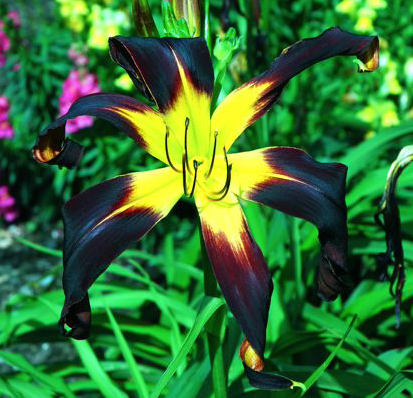 *Rolling Raven

---

*ROLLING RAVEN (Stamile,P.) TET 527-B (Wild And Free X Scarecrow) 38" EMRe. emo. Ev. 10.25" x 1.875" x 1.25". 2-way branching. 14 buds. Spider. Spider ratio 4.3:1.
ROLLING RAVEN is our blackest spider to date. Rich red black, velvety and sun resistant ROLLING RAVEN is outstanding. Unlike most black spiders which tend to be small or have trouble opening flat ROLLING RAVEN at 10" is huge and flowers open flat right from the throat which is chartreuse as opposed to yellow gold.
The form on ROLLING RAVEN is outstanding with large open flowers with no overlap in the throat and small closure numbers. The petals and sepals twist and curl to give the illusion of a pinwheel.
ROLLING RAVEN is also important for its relative ease of fertility. Tet spiders are notoriously difficult to set pods on. ROLLING RAVEN, while not as east as say WINDMASTER or some full forms, is an easy pod parent. For a true spider of this size to be an easy pod parent is remarkable. Pollen Fertile as well.