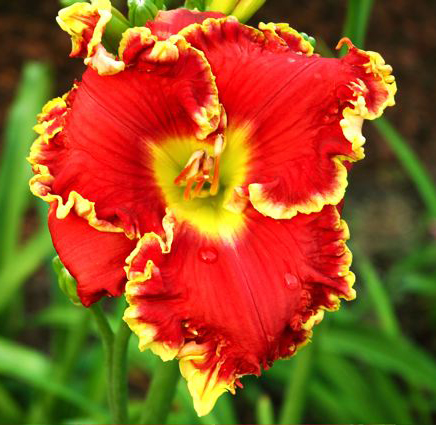 *Running Hot

---

*RUNNING HOT (Stamile,P.) TET 4131-A [(Northern Glitter x Walking In Beauty) X Zephyr's Song] 28" EMRe. emo. Ev. 6.5" x 3.5" x 2.5". 4-way branching (2 laterals + terminal "y"). 30-35 buds.
Another "red" from pink breeding like BORN TO RUN. Other hybridizers are exploring similar lines of thought. Without any reds in the background for as far as we can go back, we are seeing the emergence of saturated red colors from the rose end of the spectrum.
Like traditional reds RUNNING HOT has been an important parent for both red and purple. This should not be too surprising since the difference between a red and a purple lies in the position of one hydroxyl group on a benzene ring. Still for a hybridizer it gives one flexibility to shift color without muddying the colors.
RUNNING HOT, as well as BORN TO RUN, is being used again with deep roses like DR. JERROLD CORBETT to try to get green edges into reds. To my knowledge there are no reds with green edges. Within a few years I think we will start to see this just as we are starting to see gold, yellow and orange edges on reds. It is an exciting time to be in daylilies with so many talented hybridizers exploring new color combinations.
RUNNING HOT is more than just a pretty face. Good scapes with wide laterals and beautiful low arching foliage make this more than just a hybridizer's flower. A very important daylily and a great parent for reds. Fertile both ways.