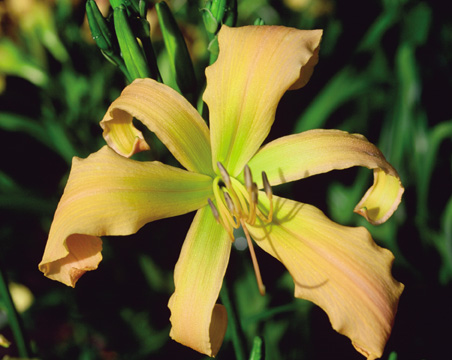 *SPINNAKER
---

*SPINNAKER (Stamile, P.) TET 260-C (Let Loose X Gold Pinwheel) EEre. fr. emo. SEv. 9" x 1 3/8" x 7/8". 12½" wingspan. 5-way branching. 45-50 buds. Spider. Spider ratio 4.4:1.
SPINNAKER is our first melon spider. Coming from a gold on yellow cross SPINNAKER was a little of a surprise since we were expecting a yellow or gold.
A terrific flower SPINNAKER is one of the first flowers to bloom here. With a very different color SPINNAKER stands out in the spiders. It also has fabulous plant habit and being a SEV. should travel well. It should also be a great show flower.
Unfortunately, I have not gotten pods on SPINNAKER. Pollen fertile.