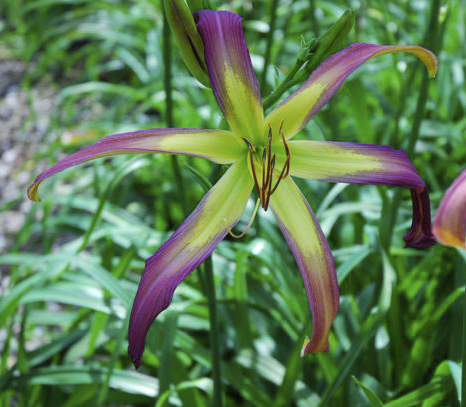 *Vertigo

---

*VERTIGO (Stamile,P.) TET 4270-C (Windmaster X Linguini) 41" EMRe. emo. Ev. (15.5" wingspan). 12" x .25" x 1". 6-way branching. 30 buds. Classic spider. Spider ratio: 6.2:1.
If you like tall stately spiders with strong erect scapes you will love VERTIGO. It easily passes my scape strength and flexibility test which I give to all my real tall spiders. I take the top of the scape and pull it 12" from the vertical. If the scape does not bend or crack and springs back to vertical it has both the necessary strength and flexibility that I like to see in really tall daylilies.
VERTIGO is one of my narrowest true spiders with the size and gentle twisting that make it a standout in the garden. The color is a plum lavender with a true lavender watermark and citron green throat. Excellent. Fertile both ways but a difficult pod parent.