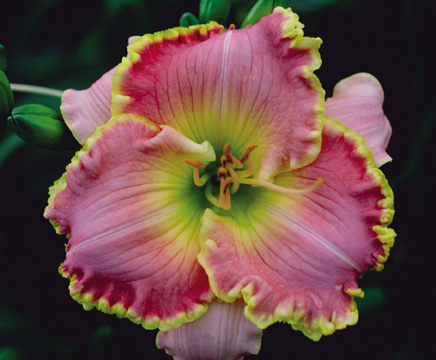 *WREN'S SONG
---

*WREN'S SONG (Stamile,P.) TET 1325-C [(Shimmering Elegance x Ed Brown) X (Red Fang x Northern Glitter)] 26" EERe. fr. emo. ext. Dor. 7" x 3 ½" x 2 ½". 6-way branching. 30-35 buds.
It will come as no surprise to hybridizers to learn that 90? of your "keepers" come from 10? of your crosses. That is certainly the case here with cross 1325 – three great introductions from one cross: SHORES OF TIME, the gold edged rose pink, LESLIE RENEE, the green edged rose and WREN'S SONG, the early huge flat edged ribbon pink bitone.
Performance is what WREN'S SONG is about. It is one of the earliest pinks to bloom and it is also one of the longest blooming. Long bloom is a characteristic you cannot see from any image. You can only see it in the garden after other daylilies have bloomed out. It is one of those characteristics I wish every daylily had.
But WREN'S SONG is not just about performance, it is a very large, very flat ribbon pink bitone with a prominent gold edge. Being a dormant like its sib, SHORES OF TIME, it should travel well anywhere. The picture in the catalog and on the Internet shows a typical bloom on first scape. For those who get rebloom this cultivar has gold tentacles some of which are ¾" long. I know of no other ribbon pink with this characteristic. Alas, it only occurs on rebloom when it is quite warm here so it may not show up everywhere, that is why I have not pictured it in its tentacle form.
How have I used this cultivar? Being taller I have used WREN'S SONG to get some of the gold edged purples, which tend to bloom low and in the leaves, to come up. Being 7" in bloom size, it is much larger than its sibs so I have used it to get extra large blooms in every color. Easily fertile both ways.